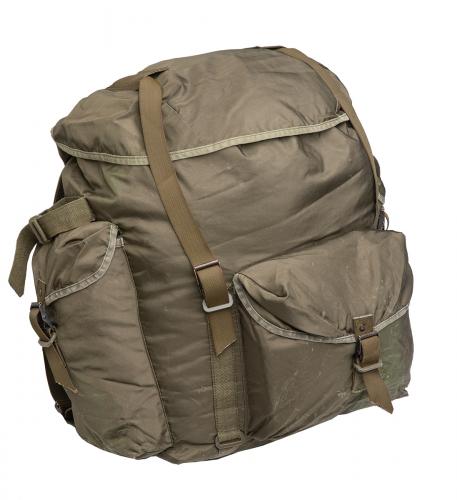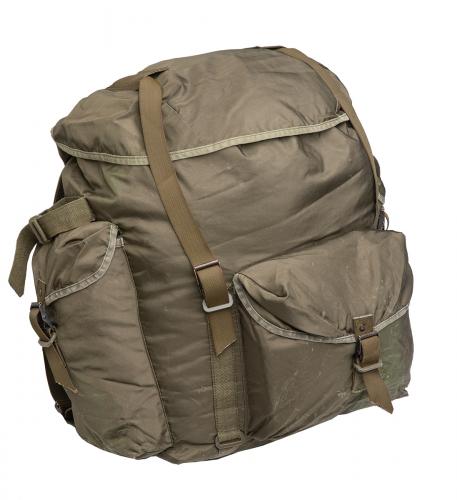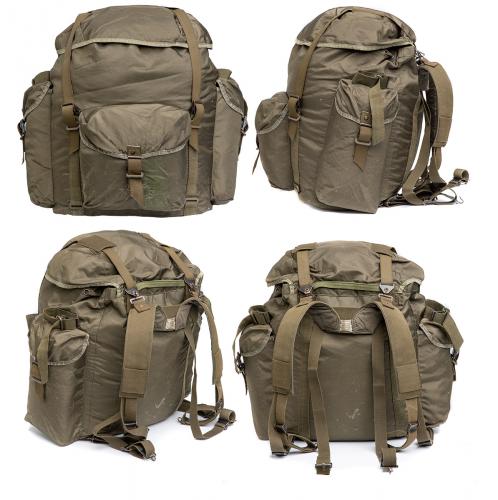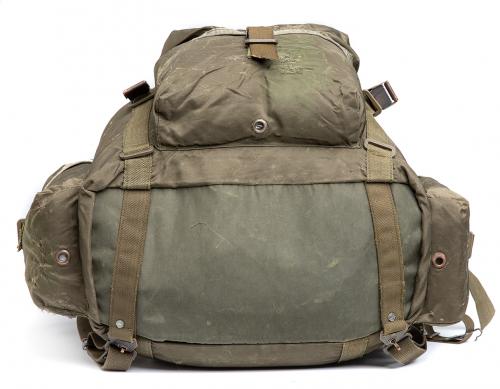 The bottom is sleek to allow room for the butt pack of the load-bearing webgear. However the plastic loops next to the outer pocket can be used to carry some gear.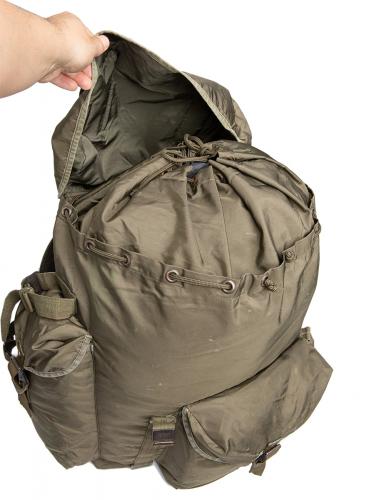 Traditional double drawcord collar.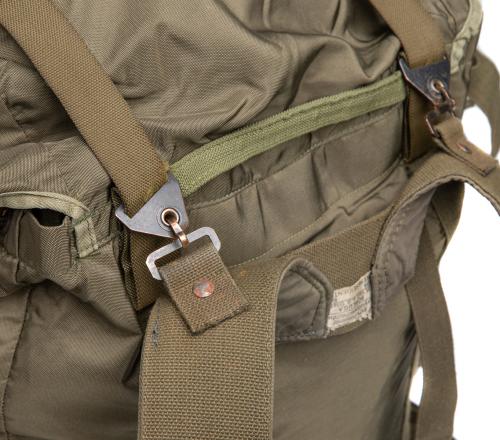 The yoke attaches to the pack with steel hooks.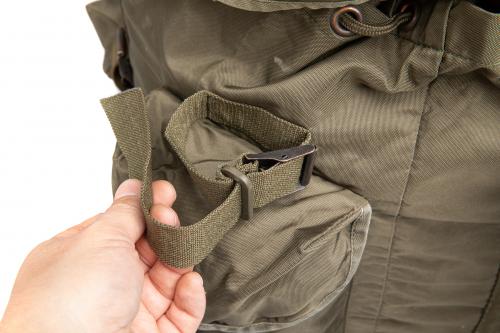 Stabilizing straps above the side pouches for longer objects.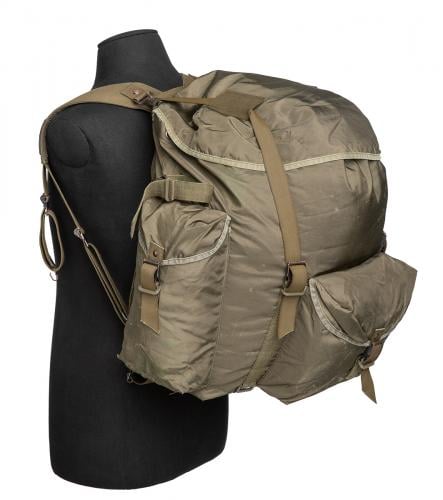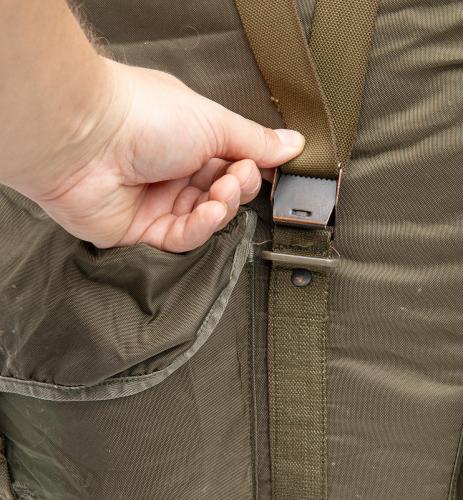 Sturdy and non-slipping steel buckles.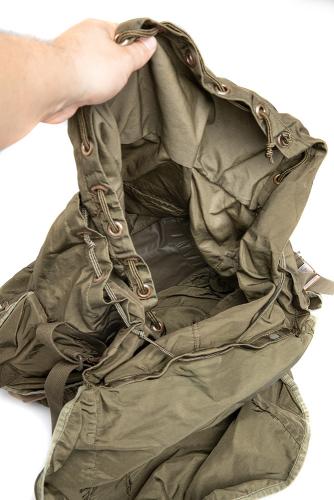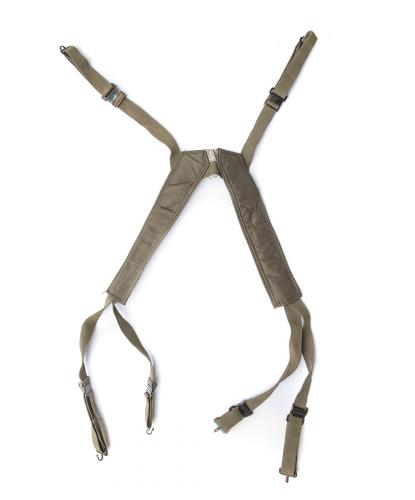 The carrying yoke is also a harness for a combat belt.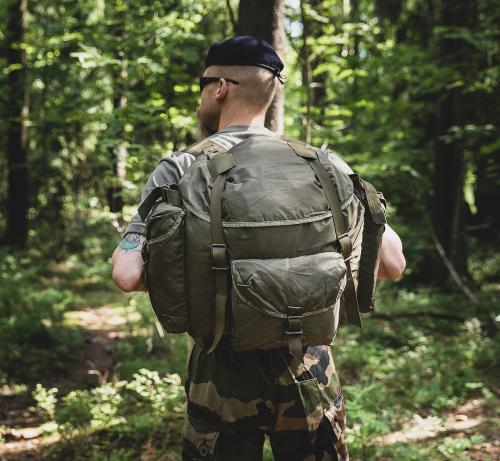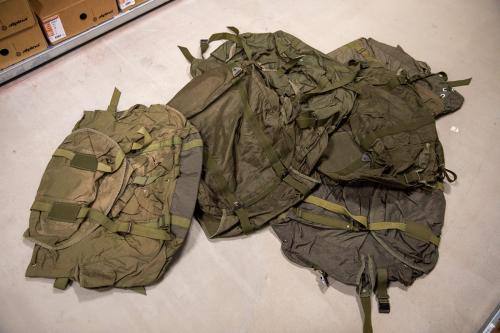 There are small variations in the packs, but overall they are all the same.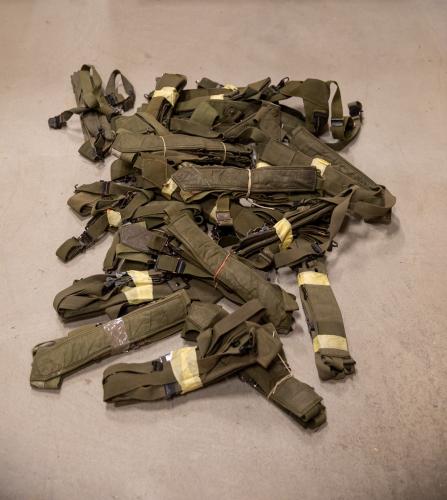 There are small variations in the straps, but overall they are all the same.
Austria
Austrian "ALICE" Style Rucksack with Carrying Yoke, Surplus
Price 24.99 USD
excluding sales tax
Dirt cheap Austrian rucksack with a carrying yoke. Very high-tech carrying system in the '80s. Modular already when nobody had even heard the word yet. Perfect for a few days' journeys back in time.
We don't know when this product will be restocked. With surplus the restock date is unknown due to sometimes poor availability. Request restock notification and we will email you as soon as this product is available.
Trouble with the metric system? Try our converter: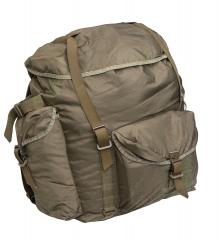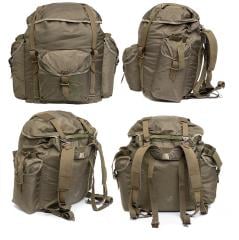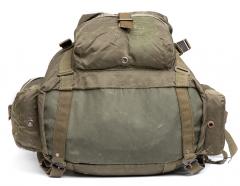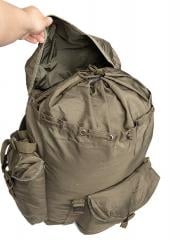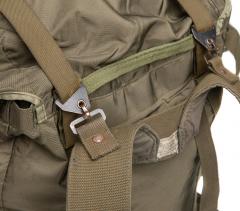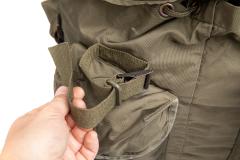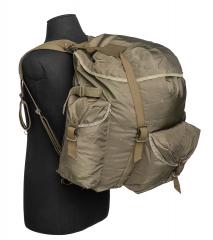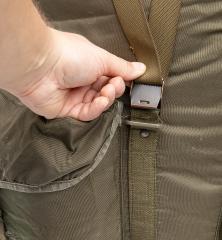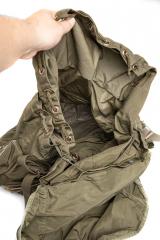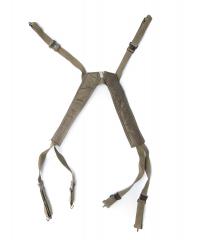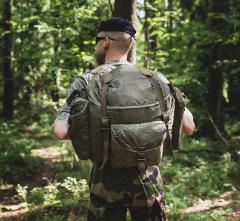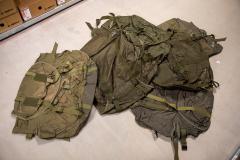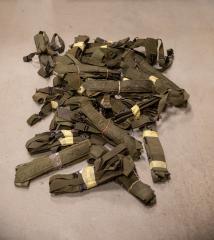 Dirt cheap Austrian rucksack with a carrying yoke. Very high-tech carrying system in the '80s. Modular already when nobody had even heard the word yet. Perfect for a few days' journeys back in time.
Features
In the golden '80s, Austrians had a carrying system that consisted of a largish rucksack and a smaller bag that could be carried as a front pack or a butt pack. The smaller one could also function as a shoulder bag or a small backpack. We have previously sold the ass bags and now we got the rucksack. Maybe one day we'll have both at the same time. In case we only get the smaller one next time, too, you should buy this rucksack now though.
This is pretty similar in outlook to the US Alice pack except that it doesn't have any kind of a frame. The carrying straps are quite minimally padded and there is no hip belt. Well, too much padding screws up your shooting, and ergonomics and other comfort nonsense are devil's inventions to the vintage folks anyway. The straps are attached to the rucksack with metal hooks. In case you don't like fast detachability, you can bend them properly shut if you want.
The large main compartment has a separate big pocket closeable with a metal buckle where you can slide in e.g. the BW sleeping mat. The bottom is rubberized, on some on the outside and on others on the inside. This will prevent all your crap from getting soaked when you set the rucksack on wet moss or grass. The main compartment is closed with a double drawstring and a separate flap. The double drawstring enables you to overpack the rucksack to some extent or make really sure that your stuff won't fall out.
The rucksack has a small pouch on both sides and a bit bigger pouch on the outside. There are rucksacks made at different times here, so the colors and small details can vary a bit. They are made of Nylon.
Condition
Used Austrian military surplus. These have been used with varied intensity. So, they can have some surface rust on metal bits, small stains, a little bit frayed straps, and other typical signs of use. These are in serviceable condition though.
Austrian surplus
Functional, neutral, clean. That's what the Austrian Bundesheer gear is made of. Our Austrian surplus revolves mostly around the Anzug 75 and Anzug 03 clothing systems, but who knows, maybe the "Tarnanzug Neu" will make it's appearance if the Austrians decide to clear the stocks in the future. Get your OD gear while the stocks last.
After the Second World War the Austrian soldier looked like a weird mixture of Allies and Germans; the M1 style helmet and general profile really tried to bring that NATO vibe up, but a lot of the gear and even the dotted camouflage pattern looked surprisingly much like WW2 German issue. In the 70s they took a major leap towards NATO with the introduction of the all-green Anzug 75 clothing and equipment system closely inspired by the American equivalents, finally letting go of the "old stuff". The Anzug 03 brought the game up to date with some changes in effort to modernize the whole thing. Now the Bundesheer is again moving over to camouflage.
All products: Austria
Recommendations
Loading products...
Reviews
You have already submitted a review. You can edit your text by clicking on it. You can filter the reviews by clicking on the elements of the summary.
Log in and write a review. You can filter the reviews by clicking on the elements of the summary.
Remove filter
I would recommend for a friend
Jeff D.

27.08.2021

Verified purchase
My pack, dated 1984, would pass for new/ unissued were it not for the signs of having been used on the metal parts - places where the black paint was worn off and some minor surface in couple of places. The yoke is suspect is older, and does show it has seen use, however it is in great condition for its' age. The add photos show off the pack quite well. My is an old school, dark OD green.
If you want an ALICE style rucksack, I would recommend getting one NOW, before they are sold out. It's great buy for the money.
4
1
I would recommend for a friend
Jesse V.

12.11.2021

⚠ Unverified purchase
For the price, this is a heck of a rucksack. Full disclosure, I bought my pack from a different website than Varusteleka but feel like my review is still worth posting. The Austrian series of ALICE gear differs from others in that it's meant to be a three piece system including a stomach pack and pistol belt, and as such the yoke will have extra straps with metal buckles that go nowhere on their own. It doesn't make for a very comfortable carry. If the front straps were longer you could perhaps attach them to a belt, but they aren't. If you have no intention of using the stomach pack then do yourself a favor and cut the extra straps off so they don't poke you in the back on a long hike. Aside from the straps, it's an ALICE pack. It's sturdy as hell, has two big sustainment pouches on the side, and a tertiary pouch on the "front" of the pack. I love it because I can fit my E-Tool and other pieces in there. It has a drawstring closure at the top of the main compartment to keep your gear dry when it rains. Love my pack, it's not the best out there but it's older than I am and doesn't know how to quit. There's packs out there for three times the price that aren't half as good.
4
1
I would recommend for a friend
Dean F.

20.12.2021

Verified purchase
Didn't buy it here, but still own and use it. Well, it's basically an uncanny ALICE pack. After breaking it in on a 4 day backpacking trip in the Alleghenies packed with ~20kg of gear, a few observations:
- main compartment capacity is probably in the neighborhood of 50L. Not as spacious as the 65L BW ruck nor does it carry as well, but noticeably larger than a BW mountain ruck or US combat patrol pack.
- the material is your typical slippery ALICE-esque nylon. A tiny bit of water repellency, much better in mist or a drizzle than canvas, but you'll still want a liner bag for any serious rain.
- due to the generous size, lack of any frame, and combat yoke passing as shoulder straps, this thing is super floppy until you have a bunch of stuff in it. The buckles do allow you to cinch the lid down pretty tight so if you only have a half load, it doesn't look quite so much like a bunch of smashed assholes.
- the straps. Ohhh boy, the straps. If you're skinny like me without a lot of fat on your neck and shoulders, humping any significant load for longer than a day will get miserable. I just used a towel as padding and it was okay, but I won't use this for any serious humping again until I manage to DIY a solution involving proper modern pack straps.
- also, due to the way the pack kinda "hangs" off the shoulder attachments at the very top of the back, it slouches down kinda low on the back even with the carry straps tightened all the way. I personally like to carry my ruck fairly high on my back, so this was kinda unpleasant.
- on the bright side, the straps are basically a M1956 LCE harness made out of nylon, so the sky's the limit if you wanna pull them off and use them for an LCE setup. Now I kinda wish I didn't cut the back straps off to get out of my way while humping...
- there's a pathetic "carry handle" between the shoulder strap points. It sucks, but it's there.
- the clasp/slide buckles are awesome, they will never come loose on their own and are super easy to use and adjust on the fly. Dunno why they never caught on with other armies.
- the external pouches are bigger than they look. For perspective, you can fit two BW toiletry kits full of crap in the front pocket, and the sides will swallow up a Swiss 1L canteen with room to spare for other snacks and small items.
- you can lash stuff like ponchos and blankets to the top of the ruck using the top straps thanks to the design as they go through the little webbing "tunnel".
- the roll-up straps above the side pouches are awesome for stuff like rain gear and intermediate layers that you may need to don/doff throughout a day of humping, but don't want to have to open and fish through your pack for every time. As an added bonus if you use them like I did, having your wet socks or midlayer or jacket on the outside means they stand a chance of drying out. You might be able to use them for stuff like a rolled poncho/zelt/greatcoat, but them being right above the side pouches might hamper this. And no, you can't cram stuff like tool handles behind the side pouches like you can on the BW mountain ruck.

There are better rucks for sure, but this is still an easy 4/5 at under 30 USD, a very solid "do anything" pack on a budget, especially considering how USGI ALICE packs are steadily creeping up in price. Just be prepared to curse the shoulder straps.

UPDATE: Shoulder straps from the USGI ALICE pack will fit with a bit of elbow grease and swearing! The top of the US straps will fit (tightly) as is, on the bottom you'll have to rip the stitches out and sew ALICE snap hooks on. https://imgur.com/a/aZR5Eiw
2
1
I would recommend for a friend
Martin J.

19.01.2022

⚠ Unverified purchase
The backpack is quite large and robust. It fits the German army folding mat on the inside. The carrying straps, however, are terrible. I mounted mine on an aluminum backpack frame which turned it into an awesome backpack. That way I can strap on stuff underneath the backpack, it has two plastic loops at the bottom that are very suitable for that.
1
1
I would recommend for a friend
OGIE F.

15.11.2022

Verified purchase
100% an amazing rucksack can store around the same items as a 80L rucksack With a squeeze used on many occasions never let me down.
0
1