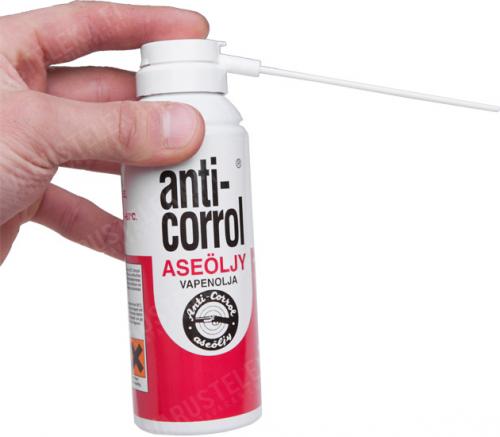 Anti Corrol
Anti-Corrol gun oil, spray can, 165 ml
Price 7.99 USD
excluding sales tax
High-quality gun oil in a spray can. Works with most metallic things that need lubing. Contains 100 ml of oil.
This product is unlikely to be restocked and will be hidden from our website once it's out of stock.
Discontinued product.
Trouble with the metric system? Try our converter: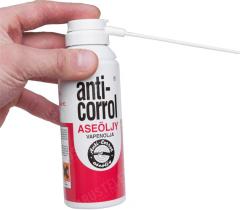 High-quality gun oil in a spray can. Works with most metallic things that need lubing. Contains 100 ml of oil.
Penetrates deep into the metal, under any blemishes, and forms a strong film. Removes corrosion and dirt. The manufacturer states that anything treated with Anti-Corrol will not rust whether you store it in an unheated attic or anywhere else where the temperatures vary.
Some facts:
Freezing point -60 C
Very flammable
Harmless to the ozone layer
As this really is quite flammable, we urge you not to smoke or do anything else stupid while applying it. Try to keep the oil away from the skin and eyes. Keep away from children. Don't store it in temperatures over 50 degrees celsius or in direct sunlight. You know, the usual stuff.
Made by Tampereen Öljytukku Oy in Finland. This oil has been in production since 1939.
Notes on shipping
Cannot be shipped abroad! Domestically these can be sent only via Matkahuolto.
All products: Anti Corrol
Recommendations
Loading products...
Reviews
You have already submitted a review. You can edit your text by clicking on it.
Log in and write a review.
Remove filter
I would recommend for a friend
Marko N.

22.12.2016 (Edited 14.06.2017)
En omista ampuma-aseita, mutta minulla on tämä öljy käytössä kun tarvitsee voidella ja suojata jotain vaikkapa lapiota.
Tämähän on erinomaista lukkoöljyä ja käytänkin tätä siihen tarkoitukseen; esim. auton lukkoihin tätä on hyvä suihkuttaa aika-ajoin,
niin ne eivät jäädy niin helposti. Ja tällä saa pienen pintaruosteen pois kun laittaa tätä teräsvillaan ja hinkkaa sitten; esim. vanhasta rynkyn lippaasta lähti pintaruoste loistavasti, mikä ruoste siinä oli kun ostin sen. En ole kokeillut tätä ompelukoneöljynä, mutta luulisin, että toimii, kunhan ei joudu ommeltavan matskun kanssa tekemisiin ja aiheuta ylimääristä
hajua siihen. En ole kokeillut tätä vaijereiden, esim. polkupyörä, voiteluun, mutta ei tämä varmaan sielläkään jämähdä ihan
pienessä pakkasessa, ja jos vaijereita voitelee, niin kannattaa jos vain mahdollista tavalla tai toisella varmistua, ettei vettä ole
vaijerin sisällä, sillä ei lienee paljostakaan öljystä vaijerissa apua, jos siellä vain on vettä, joka jäätyy pakkasessa. Sami alla kirjoittaa, että tämä Anticorrol aseöljy suihkeena kuivuu, mutta tämä ei pidä paikkaansa, minulla on yli puoli vuotta sitten tällä aseöljyllä voideltu
teräase, eikä öljy ole kuivunut tippaakaan.
5
2
I would recommend for a friend
Sami A.

08.06.2017 (Edited 31.05.2021)
Hyvin aliarvostettu tuote "ammattipiireissä", jotka vaan eivät osaa käyttää aseöljyjä oikein. Anticorrol/yleisesti aerosoliöljyt kuuluvat "liuottaviin" öljyihin, joilla pääsääntöisesti puhdistetaan ja jotka myös haihtuvat ennen pitkää pinnoilta, jotkin jättäen tahmean pinnan jälkeensä. Tästä syystä em.öljyjä kannattaa käyttää nimenomaan puhdistuksen yhteydessä ja mielellään jättää yhdeksi yöksi vaikuttamaan ennen kunnollista puhdistusta. Varastoinnin, sekä käytön ajaksi kannattaa liukupinnoille laittaa ihan peruspullossa olevia öljyjä, jotka pysyvät pinnoilla kuivumatta.
3
7
I would not recommend to a friend
Jani T.

20.06.2021 (Edited 30.06.2021)
Tällä kuralla on pilattu monta ihmiselämää ja tuhansia pyssyjä. Käytä mihin vain muuhun mutta älä saatanassa tätä aseisiin tunge.
0
0