Varusteleka's Remote Military March APR 25–26, 2020
Due to this current plague, all ruck marches, and field exercises have been canceled, at least here in Finland. So we decided to launch our very own Varusteleka's Remote Military March (VRMM). See the event on Facebook. Plain and simple, each individual warrior executes their march according to our guidelines and shares the fun on social media. This way we can keep our rucking condition in top shape and bring some good vibes to these grim times.
All participants who complete the challenge and share it in social media will get the desired Varusteleka's Remote Military March patch and we will do the raffle of 1 pcs of 100 € gift card and 2 pcs of 50 € gift cards.
When: Sat 25.4. - Sun 26.4.
Divisions:
Military: BDU, military boots, at least 10 kg rucksack from start to finish
Open: No requirements for clothing and shoes. At least 10 kg rucksack from start to finish
Corona: Same as the military division but wearing gas mask throughout the route. Gas mask can be removed for drinking and maintenance. ATTENTION! Please be aware of your own performance level and health. If you are unsure or do not have experience of marching with the gas mask, do not take this challenge.
March distances: 25 km or 50 km. Route according to own choice but the route should contain both paved roads and off-road sections. The route should avoid areas which might be heavily crowded
Code of conduct: Alone or in small groups and keeping in mind required social distances. If possible, some sort of trailing or GPS tracking would be nice. Share your experiences on social media by using hashtags: #varusteleka #etäsotilasmarssi #remotemilitarymarch #ves #vrmm and mentioning us so we can find your efforts.
So fill your rucksack with rocks, replace the boot laces and go!
We recommend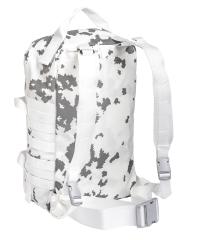 Särmä TST CP15 Combat Pack w. Flat Shoulder Straps
199.99 USD
A compact 15-liter combat pack, highly adaptable to suit users' individual needs. Lots of options for added carrying capacity and organization, topped off with modular shoulder straps. Absolutely bombproof construction and materials! This model comes with flat shoulder straps as standard.