▼

Särmä

▼

Särmä TST

▼

Terävä

▼

Jämä

▼

Coming soon

Color

Product type

Manufacturer
We don´t just retail surplus and other brand gear, we also design our own. Särmä, Särmä TST, Terävä and Jämä are Varusteleka's own in-house brands.

Särmä is our general something for everybody -style brand. This includes clothing, accessories and gear for a multitude of uses, from everyday wear to hiking and everything in between. With Särmä we aim to make highly functional gear at a decent price point.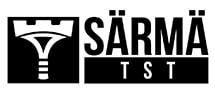 Särmä TST is clothing and gear designed especially for Finnish MIL and LE use, including everything from base layer clothing to long range sustainment packs. Quality and functionality are important factors in specialist use gear, this naturally reflects in a higher price point.

Terävä is our brand of knives and accessories designed for outdoors use. Designed in Finland, made in Finland. Terävä has already began gaining a global reputation as great cheaper than average yet very high quality and functional knives.

Jämä, which is a Finnish word meaning leftovers, is our brand for stuff we make right here at our warehouse in Helsinki, Finland, from products that are faulty or just don't sell for one reason or another. The materials - being military stuff - are very good and since we make these ourselves, we can vouch for the quality of the work.
Check out our Roadmap for information and release dates for our upcoming new product releases!