Varusteleka's House Brands Roadmap, DEC 2018
Share on Facebook
Things that have been and things to come
The year 2018 felt short due to everything going on. We threw a fashion show of our own in GoExpo. Check out the videos for day 1, day 2 and day 3. In this year's Road Show we presented new clothes and gear, and the Särmä TST clothing system has become whole enough to ditch any mentions of being under construction.
After moving all of our functions to a new address we launched more novelties in Mega Grand Opening. This wave was wool-weighted, for example Särmä TST Woolshell Jacket and Woolshell Trousers, Särmä Wool Fleece Jacket with a removable hood, Särmä Wool Flannel Shirt, and Särmä TST Tactical Jeans. (The availability of the jeans will be stabilized during December.)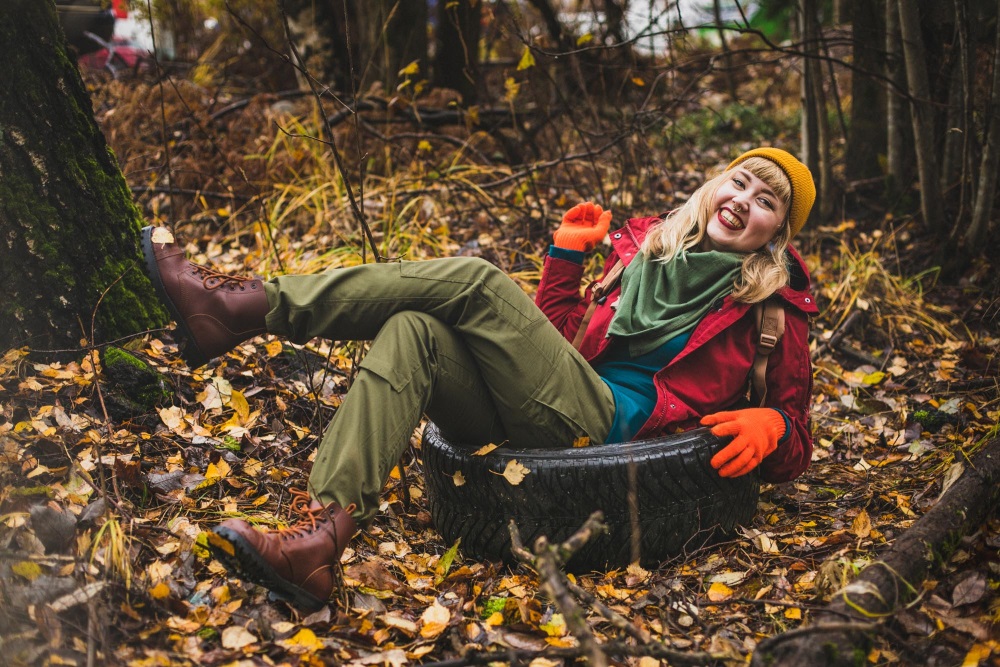 Fall called for some colours based on "everything we have".
The year 2019 will feature long-awaited releases as well as updates to existing ones, new themes and projects such as a detailed study into our impact on the environment and a material bank for education and transparency.
This year we're also catering to hunters better than before. You've been our customers for a long time and it's time we did more things for you. Look out for top picks and a wider selection for you.
Perhaps the most special and time-consuming launch will be a Särmä hunting uniform with the venerable Finnish M05 camo pattern. The intent is to make it suitable for a wide range of hunters and this is reflected in the price, which we aim to keep at 200 EUR (roughly 200 USD after conversion and VAT reduction due to sales outside the EU). Details, features and so on will be published later.
Practical experience and end-user input guide the design process.
Q1 2019
The beginning of the year brings lots of upper body garments from Särmä. Expect new zippered utility pouches from Särmä TST, but more importantly a Hanger Utility Pouch and a quick-adjustable rifle sling. Jämä has been working on a laptop bag and the good ol' Bag Beer Bag gets a material update due to running out of the old vintage.
Särmä
Särmä T-shirt and sleeveless shirt. No-one likes a wet cotton T-shirt (well, sometimes it can be nice to wear or look at, but exceptions aside), so we're making new shirts from lyocell, which is "like viscose, but better". Works as a base layer or just casual use.
Särmä Windproof Anorak We get a lot of requests to make an anorak, so we took the material of the Särmä Windproof Smock and added features we believe are most important in this kind of jackets. The hood is large and adjustable, the collar is generous and can be opened, and the side zippers allow ventilation and ease of donning and taking off. ETA February.
Särmä Softshell jacket. Softshell garments have been in the works for some time, but were set back due to concerns about micro plastics. The Särmä Softshell Jacket has a TPU membrane to be windproof and waterproof up to 500 mm. The inside has a smooth knit instead of traditional fuzzy fleece. Expect pockets, ventilation and a removable hood. Projected release: March.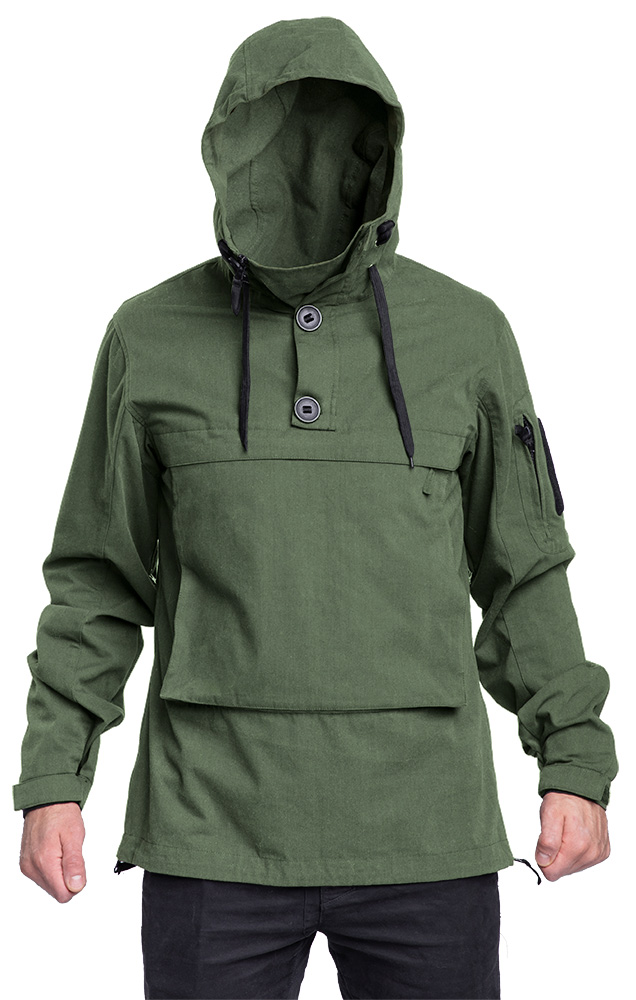 The upcoming Särmä Windproof Anorak.
Särmä TST
Särmä TST Hanger Utility Pouch. Attach this medium-size utility pouch to the bottom of your plate carrier or similar combat vest with hooks and loops. Designed to be compatible with various inserts and dividers to organize it as your task demands.
Särmä TST 2P-RK Rifle Sling. A fast and reliable two-point sling for assault rifles and carbines.
Särmä TST Modular Beaver Tail. A versatile compressible/expandable lashing system that attaches onto any pack or other platform with the necessary PALS webbing.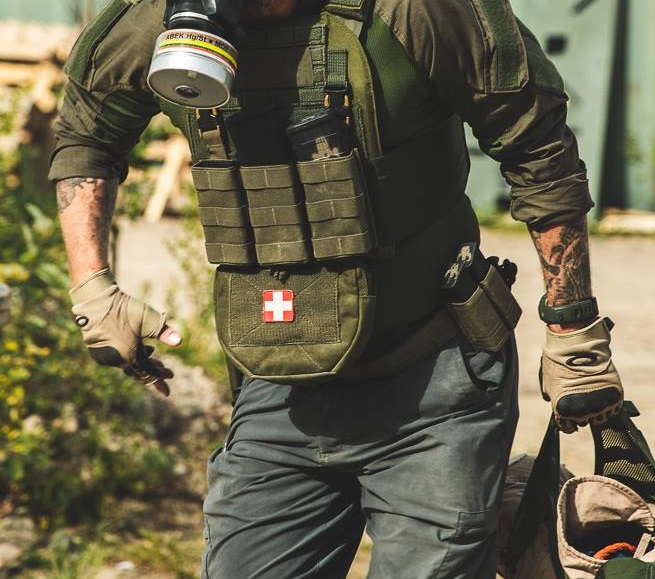 The Särmä TST Hanger Utility Pouch has endured hard trials.
Jämä
Jämä Laptop Bag. We're scheming a new product with a company that manufactures car seat upholstery. The lining will be surplus fabric from Savotta and the exterior is leather. We're at a prototype stage as of now and will know more in the beginning of the year. Available in February!
The good ol' Bag Beer Bag returns. The old dwarf-sized Finnish M65 service jackets ran out, so the new bags will be made of cutting excesses of the Luhka. As a cherry on top the bag will be decorated with a leather patch made from surplus material we get from producing the Wool Backpack.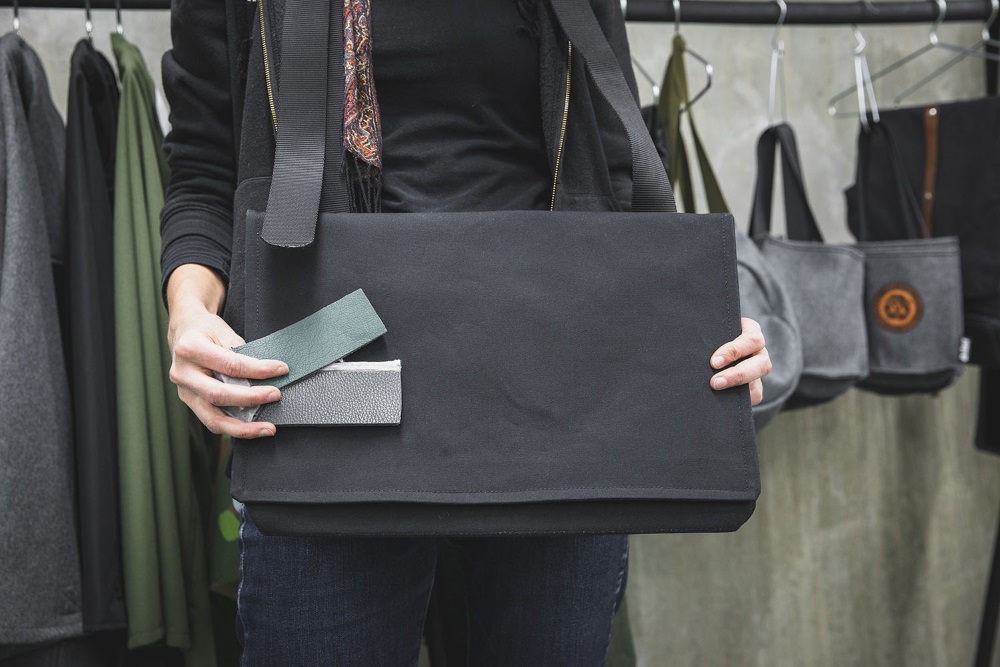 Jämä Laptop Bag prototype and material samples.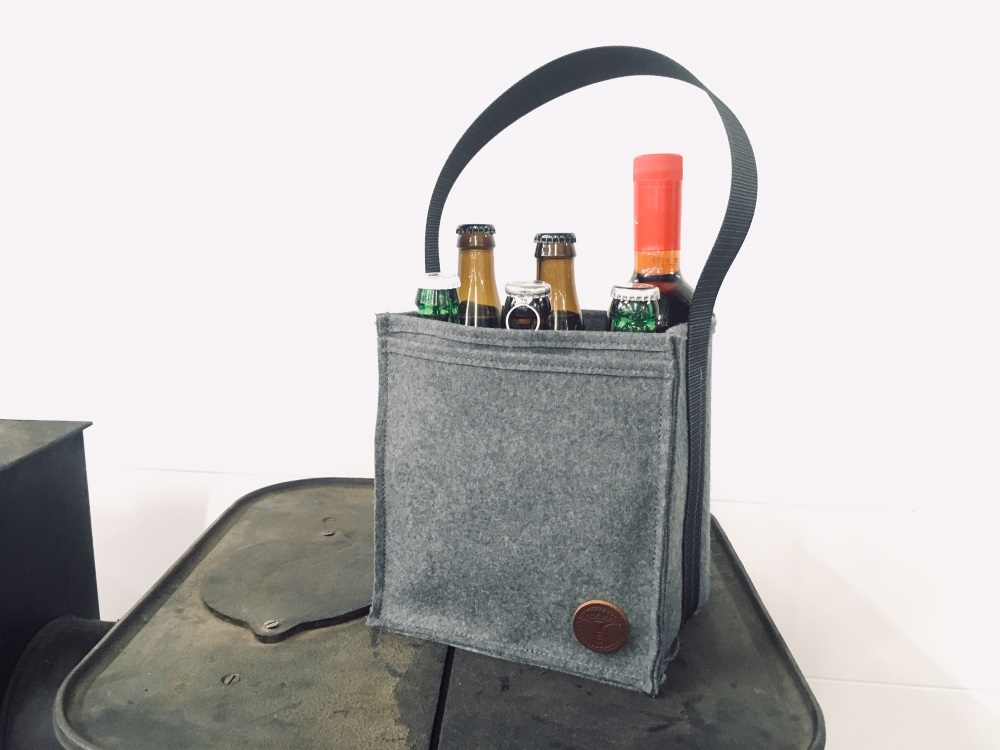 Jämä Bag Beer Bag prototype in its natural habitat.
Q2 2019
As the year passes we'll introduce a couple of duffle bags for everyday and travel use, and new camo patterns to our cargo trousers and cargo shorts. Särmä TST comes out with L4 Combat Trousers to supplement the existing L4 Combat Shirt and Jämä creates a slightly modern-looking camo backpack - but not with the most recent camo pattern.
Särmä
Särmä Duffle Bags, small one at 40 litres and a large one over 80 litres. Designed to match the Särmä Assault Packs, the smaller bag will be suitable for carry-on air travel and the larger is for those who haul more stuff with them. As a special feature these open from the top all the way down to one side to provide something to sit or step on, when changing clothes for example. Due to arrive along with the summer.
Särmä Cargo Trousers and Särmä Shorts with a Woodland camo pattern! We tried printing on our ripstop fabric and it worked, so in the spring of 2019 fans of the classic pattern will be delighted to find these available.
Särmä TST
Särmä TST L4 Combat Trousers to match the L4 Combat Shirt. Stretchy details, lots of pockets and other exciting stuff. We've worked on these for a long time and they have sadly been postponed due to pressing reasons, but finally there's light at the end of the tunnel and these should hit the shelves before summertime.
Jämä
Jämä M91 backpack. The form is similar to the Wool Backpack, but the Finnish M91-patterned material is surplus tent fabric from Savotta. Reinforced with tent floor at the bottom, this is quite the durable package!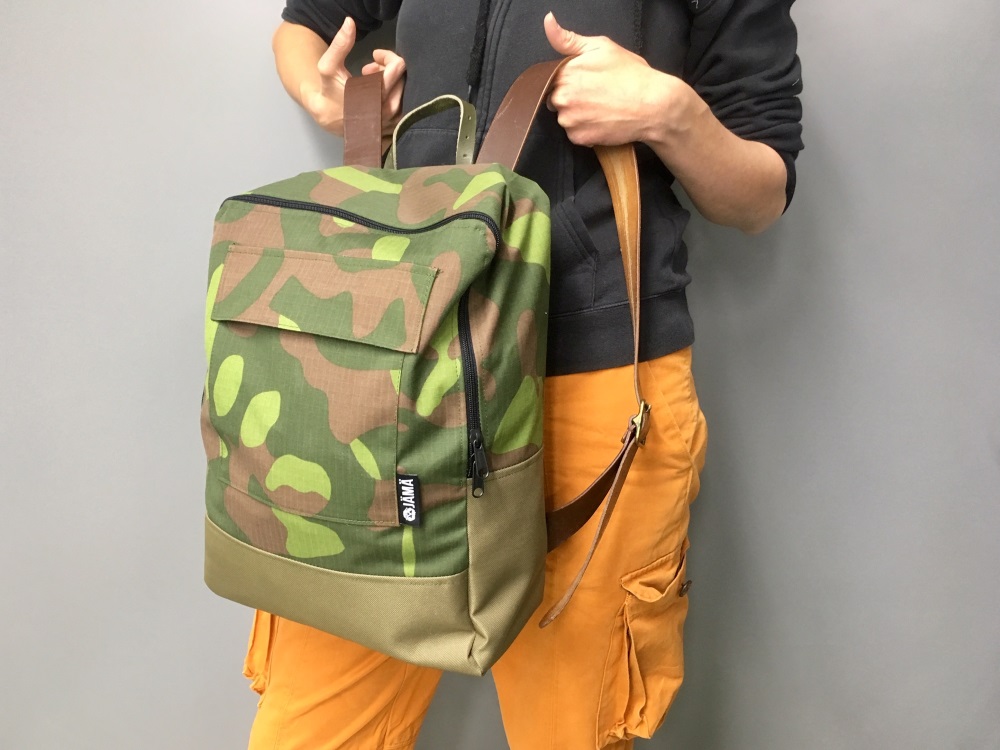 The Finnish M91 pattern has been phased out long ago, which makes it a classic. The zipper will be subdued as opposed to this black one on the prototype.
Q3-Q4 2019
Towards the end of the year Särmä shifts focus to jackets for the season and Worker Trousers get a woollen sibling. Särmä TST introduces fire-retardant garments and launches a coverall and a "Sissitakki", which could be transalted as "Guerrilla Tunic" or "Ranger Parka".
Särmä
Särmä Windproof Fishtail Parka. The name is not necessarily final, but you get the idea: based on the classic US M51 jacket we're honoring the original with some improvements and a windproof fabric. Naturally a light insulated (about 80-100 g/m2) liner will be included. A hidden pocket will be accessible without unzipping the front. The jacket will be suitable for anything from fall to spring and can be wax-treated against rain.
Särmä Light Softshell Jacket. A light shell jacket that packs small and protects you from the wind during a cool night. The hood will be of the collar-packing kind and the jacket features zippered front pockets and shoulder seams off-centre to prevent chafing under shoulder straps.
Särmä Field Shirt. With the shirt game on a straight-cut single-colour collared shirt (not of the dress kind) is an obvious addition; often asked for and we agree. The material will be recycled wool with some durability-enhancing polyester mixed in.
Särmä Worker Trousers have been lonely without a more gentlemanly counterpart. At the time of writing it looks like during the winter of 2019 we'll have a wool fabric version available. Same-ish cut with flat brace buttons. Most likely we'll also make a matching flat cap around the same time.
Särmä Wool Coat. We're working on something very nice that resembles a Pea Coat. The most difficult part so far has been to source proper fabric - we don't want to rush things.
Särmä TST
Fire-retardant versions of certain combat garments, starting with the L4 Combat Shirt. Prices are estimated to be around twice as much as non-FR models. The planned materials include good stuff like Tencate Defender-M and so on. Expect the best.
Särmä TST Sissitakki. Our updated version of the legendary Finnish army "ranger jacket".
Särmä TST Thermal Coverall. Our take on the renowned (at least around our neck of the woods) Finnish military thermal insulated coverall. A one piece oversuit designed for low activity wear in extremely cold weather.
Särmä TST Padded Insert. A simple accessory that turns most magazine or utility pockets into padded cases for optics etc.
Terävä
Terävä "One-hand Skrama". Roughly a third shorter than the original Skrama. For those familiar with Finnish knives this could be described as the "leuku" of the Skrama family.
Jämä
Card wallet from red surplus pleather. Possibly with an imprint. Also, we came across some yellow cordura. Bags, bags, bags!
Sometimes surplus comes in cheery colours!
See you next year on the streets and in the forests!